May 18, 2020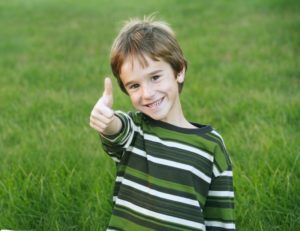 The COVID-19 pandemic has changed many aspects of our lives, including how we say hello! If your son or daughter is used to greeting others with a hug or high-five, social distancing may be particularly difficult for them. How can you help your little one feel connected to others while keeping them safe? Your Levittown pediatric dentist shares nine ways you can teach your child to say hi while staying healthy.
1.) A Friendly Wave
A universal way to say hello or goodbye is to give a friendly wave. This classic greeting is a great way for your child to show their enthusiasm without jeopardizing their health.
2.) Footshaking
Instead of shaking hands, try "shaking" feet! For this hello, each person will tap the other's raised foot. While this can be a fun greeting, it requires standing on one foot. Be careful not to lose your balance!
3.) Blow a Kiss
When they were very little, you may have taught your son or daughter to acknowledge others by blowing a kiss. This playful gesture can be used again now, as long as their fingers don't touch their lips.
4.) Air High Five
Your child can still give others an excited high five during the COVID-19 pandemic, just be sure that they stop several inches short before touching hands.
5.) Shaka
The shaka is a laid-back greeting that's common in the Hawaiian Islands and among surfers. You can teach your little one to make a shaka by making a fist and extending the pinky and thumb.
6.) Finger Guns
Your son or daughter can shoot someone a hello with finger guns. They can even add the words "pew pew!" for even more wild West fun!
7.) Make a Peace Sign
Another classic way to send good vibes while saying hi is to show off a peace sign. This simple V shape made with the fingers looks even better when accompanied by a sparkling smile!
8.) Namaste
For a slightly more refined greeting, you can teach your child the traditional namaste. Have them press their palms together over their heart and give a slight bow of the head.
9.) Use Your Words!
One of the best ways to connect with others is to use your words. If your little one is a bit shy, now might be the perfect time to encourage them to overcome their fears and look someone in the eye while verbally saying hello.
COVID-19 has changed many aspects of our daily lives, but it hasn't changed the importance of a heartfelt hello. Use these touch-free greetings to keep your son or daughter happy and healthy in the age of social distancing.
About the Author
At Happy Teeth of Levittown, nothing is more important than the health and wellbeing of our patients and their families. Dr. Amar Singh is highly trained in infection control and well equipped to protect his patients from germs that cause the common cold, the flu, and COVID-19. He has been monitoring the COVID-19 pandemic closely and adjusting his dental safety procedures accordingly. Recently, he has added a variety of extra precautions to ensure his practice is as germ-free as possible. If you have any questions or concerns, feel free to reach him via his website or at (267) 580-9657.
No Comments
No comments yet.
RSS feed for comments on this post. TrackBack URL
Sorry, the comment form is closed at this time.